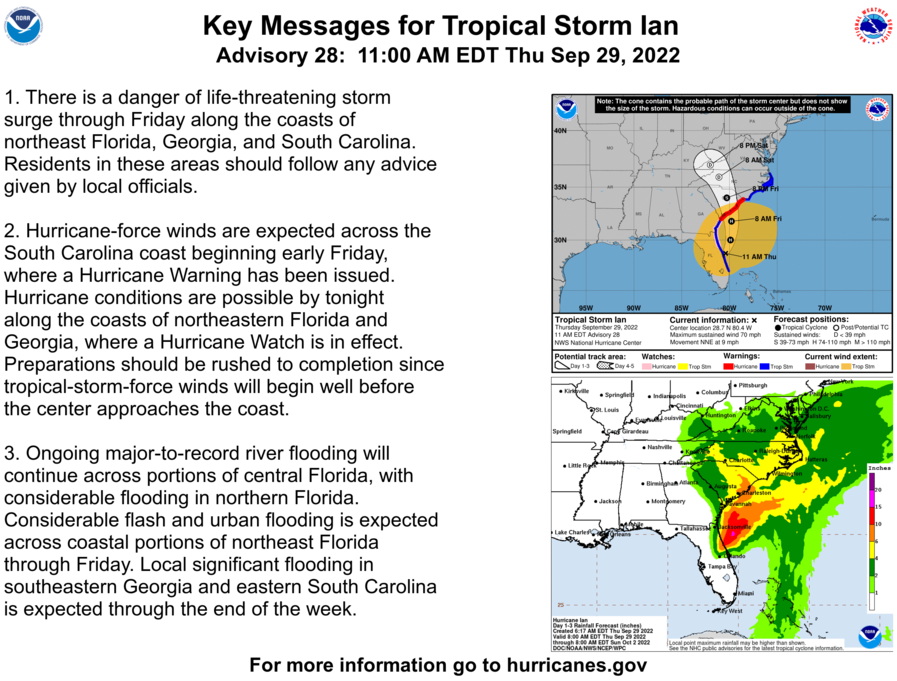 South Carolina has declared a state of emergency ahead of what is currently tropical storm Ian, but is expected to be a hurricane again before landfall here. To help make sure you are as prepared as possible, we wanted to write and advise you of some things that you should do to prepare for the storm and its potential aftermath. Sloane Realty will provide updates via email and on our Facebook page (https://www.facebook.com/search/top/?q=sloane%20realty). The following are some tips and recommendations regarding hurricane season:
Listen to weather reports and follow instructions for evacuation routes and shelter locations
Remove trash/decorations/stuff from the yard. The wind can blow these items around and damage the windows, the house and your cars.
Fill your vehicle with gas before the storm arrives.
Have cash on hand. ATM machines will not work in the event of a power outage.
Stock up on food items that do not need to be cooked or refrigerated
Get drinking water.
Have important papers handy. Take your automobile and personal property insurance policies with you. Remember that our insurance covers ONLY the building structure and not the contents or personal belongings.
Do not leave pets unattended at the property. There are resources below for traveling with a pet. There are also pet shelters that may be able to help
Obtain necessary prescriptions and medications and have them handy in case of evacuation
Keep batteries, flashlights, candles, matches, and a battery operated radio nearby
Clean and fill the bathtub with water
In the event of a power failure, unplug electronics and small appliances and keep the refrigerator door closed. (Food will stay cool for 24 hours)
To monitor the consistency of the freezer temperature, put a cup of water in your freezer now. After the water has frozen, put a penny on the top of the ice in the cup. This will help you to know if the food in your freezer thawed. If the ice melts, the penny will be in the middle or bottom of the cup, even if the freezer has come back on and re-frozen the water. Use extreme caution when considering food that has been thawed, even if it has refrozen.
Put valuable papers and items in waterproof containers (a cleaned out dishwasher is a great option)
Avoid downed power lines and report them to your electric company as soon as possible.
If you do not evacuate, take refuge in a small interior room during the storm.
Please secure all windows and doors for the duration of the storm--do not crack a window or door. Sloane Realty does not board windows. Draw your verticals and drapery materials over the windows to protect from the possibility of shattering glass.
Residents should stay tuned to local news channels and comply with all mandatory evacuation orders. Anyone remaining on property during a mandatory evacuation does so at their own risk.
Do not board or tape the windows
The owner of the property has NO insurance to cover your personal items (including items in the refrigerator).
If you do leave, you should unplug small appliances and electronics so that if the power goes out, the items will not be damaged when it comes back on. You will need to leave the refrigerator plugged in, unless you remove all of the items that will spoil without electricity. If you know the location of the breaker that controls the stove and hot water heater, it would be good to turn those breakers off.
We would like to know your plan. Please email admin@sloaneteamrealty.com or call 843-795-4461 and let us know if you are leaving. If we do get a hit, we will be checking on the rentals as soon as possible. After the storm, we will send out an electronic survey. Please respond to the survey at your earliest opportunity; it will help us quickly gather information and dispatch vendors, call insurance companies and update property owners, as needed. If you do not have access to email or the internet, you can also call 843-795-4461 and leave word about your rental. If there is damage, please leave a message explaining the extent of the damage. We will receive the message, but may not have the manpower to return your call as quickly as we would like. We ask for your patience and understanding.
Do not wait until the last minute. Make preparations now, and then stay off the road as the storm gets closer. South Carolina Emergency Management Division (scemd.org), has an excellent 14 page guide with information as to the evacuation routes for your area, phone numbers for emergencies and what you need to prepare and/or purchase if you are staying in the area.
Please be ready to prevent further damage to your property and possessions if there is structure damage causing water or wind to get inside. It is the owner's responsibility to fix the structure, but you do have a responsibility to prevent continuing damage. If damage occurs during the storm, we will address it as soon as it is safe to do so. We will not be dispatching any work orders during the storm, and if the roads are impassable, it may take longer than any of us would like to be able to get vendors to your property.
During a big storm, tree damage and debris in the yard is likely. The owner is responsible for large debris but you, as the tenant, are responsible for limbs and other debris in the yard. If grounds maintenance is provided as part of your lease terms, or association management, the owners will have their service providers remove the debris, but this may take some time.
Our office will open as soon as possible after a storm. Email will remain the best means of communication. Please let us know if you need any assistance. We have included some links to great resources below.
The Charleston County Emergency Management Department developed and maintains an Emergency Operations Plan and Re-Entry Plan for the entire County. Please visit their website at www.charlestoncounty.org/departments/emergency-management for more information and links to these documents.