INSURANCE PRODUCT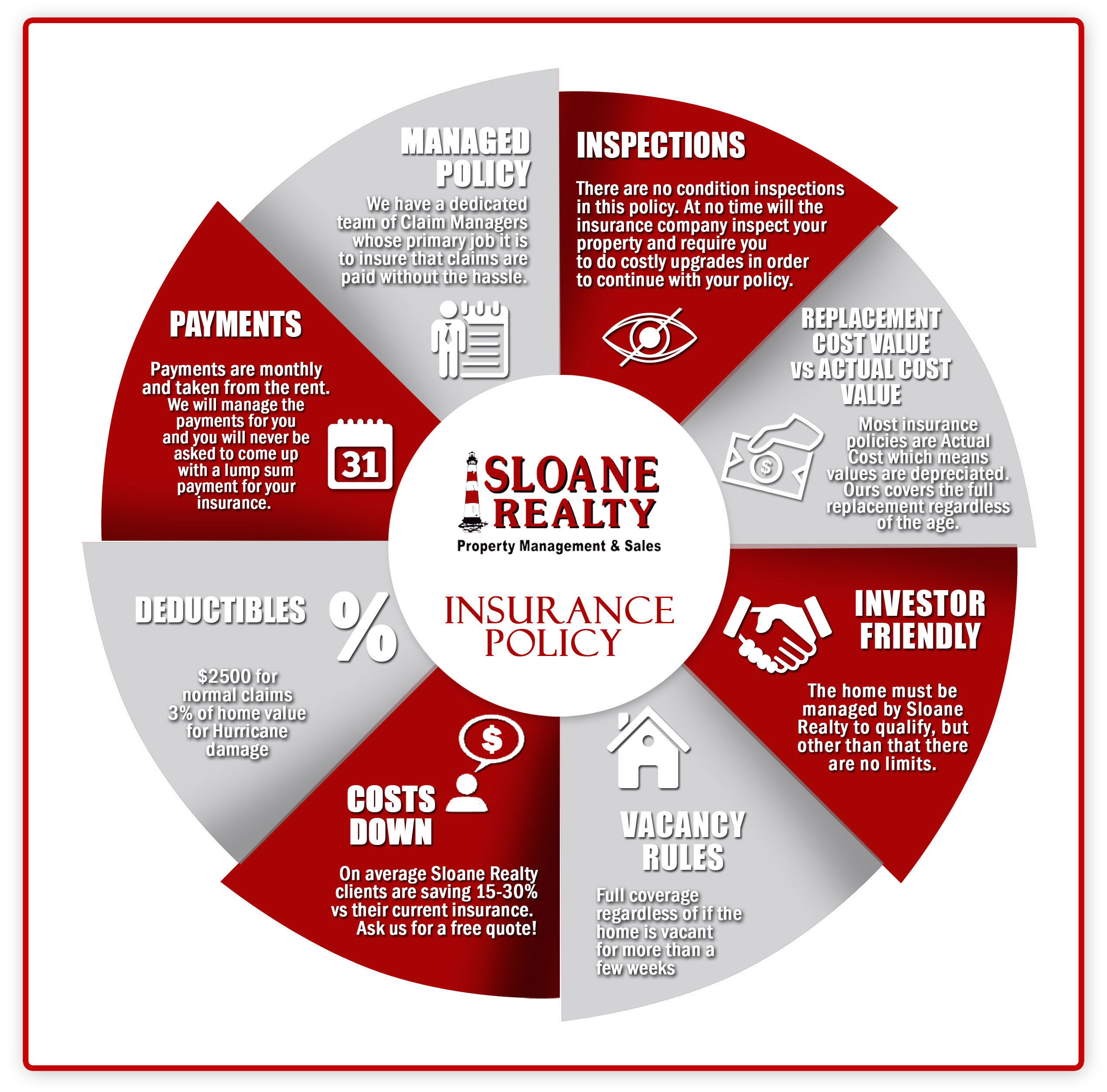 We are very excited to introduce another benefit for Sloane Realty clients. As you may already know, we require that all owner clients carry a landlord insurance policy with some minimum requirements. Unfortunately we found that many of our homeowners pay high premiums for insufficient coverage or have difficulty finding reasonably priced options. To help address this problem, we have arranged for a master property insurance policy that is not only more cost effective than many current insurance products, but also provides more extensive coverage. We have found that this product will save 20-30% for many of our clients compared with their current offerings and provide even better coverage.
The cost of this product is based purely on how much coverage you elect to get. This is different from other policies, because most insurance companies use your credit score, the amount of coverage desired, your claims history, and the history of the house in what's called a CLUE report (sort of like a credit check for insurance claims). This means that if you actually file a claim, your insurance is likely to cost more for years to come, even if you own a different home. That is not the case with this policy.
Inspections: There are no condition inspections in this policy. At no time will the insurance company inspect your property and require you to do costly upgrades in order to continue with your policy. This is also different from most policies. We have had owners be required to put on a new roof, upgrade plumbing and electrical, and many other discretional repairs or improvements.
Actual Costs vs Replacement costs: In 100% of our client's policies that we have reviewed, the policies provide coverage for Actual Costs. This is an insurance trick that many do not understand. Here are some quick definitions and differences:
Actual Cash Value coverage is when an insurance company agrees to pay you the depreciated value at the time of the loss. ACV payments include a deduction for depreciation. Although it may sound interesting to hear you will get a cash value settlement, this type of settlement does not allow you to replace what you have lost, but rather only compensates you for the value of the item as if it was being sold at a garage sale. In any circumstance, actual cash value leaves you in a tough position because you will not be able to go out to a store and buy a replacement item for the amount you received from the insurance company. For example: if you have a 10 year old roof with 20 year shingles and a large storm destroys it, the ACV payment may pay out at approximately $2700. Actual replacement cost for the roof would cost $5400. (Numbers used for explanation only--this is not a quote).
Replacement Cost coverage provides you with a payment equal to that required to replace lost items in the loss settlement of your claim. Replacement cost is superior to ACV because it will allow you to put yourself in the same position you were in prior to the loss by providing you with the necessary money to replace your items.
Investor Friendly: Many companies cap the number of policies that you can have with them. There are no limits with this policy. The home must be managed by Sloane Realty to qualify, but other than that there are no limits. We can add a new property to the policy with a single email which makes it fantastic and easy when purchasing investment properties.
Vacancy Rules: Many policies have a limit to how much time the property can spend vacant in a given period of time. This policy is built for investment properties and therefore it will provide full coverage regardless of if the home is vacant for more than a few weeks (for repairs, or unforeseen circumstances).
Payments: Payments are monthly and taken from the rent. We will manage the payments for you and you will never be asked to come up with a lump sum payment for your insurance. This insurance complies with all mortgage company requirements and we will take care of sending the proper documentation to your mortgage company.
Deductibles: To make the policy as inexpensive as possible we have set the deductible to $2500 for normal claims and 3% of home value for Hurricane damage.
Costs: Take a look at your current policy and see what you are currently covered for. Then add up 12 months of rent (did I mention this policy also covers lost rents?). Divide the total by 100. Take that number and multiply by the introductory price of $.62. Then add $58 (oh yeah, I forgot about the 2 Million dollar liability policy that comes as part of this to protect you from lawsuits). That will be your price. Confused? Send me your declaration page and I will send you back a breakdown of exactly what you can expect. One question we get is why is the price lower? It is because we are buying insurance in bulk and covering a large group of assets. This large bulk purchase keeps the costs down for all of us, sort of like if you buy health insurance via your workplace.
Managed Policy: Sloane Realty is named in the policy for your home (as is required per your management agreement) however this gives us the ability to deal directly with the insurance company in case of a claim. This means that we can start a claim and manage the process without you having to drop what you are doing to react to the situation. The company we have the policy through has a dedicated team of Claim Managers whose primary job it is to insure that claims are paid without the hassle.
For my family's investment properties, we were able to bring the insured values up to the current values AND save 20-30% of the costs. Not everyone will save money, some do not have hurricane coverage (looking at you HO6 policy holders with Condos (broken window during hurricane, floods the unit...not covered under most HO6 policies)) and some are on very old policies that have been grandfathered in. Participation in this program is purely optional. If it works, take advantage of it...if the savings are not there and you are happy with your current coverage...then remain where you are.
FAQ:
Dang I just renewed...guess I will have to wait till next year: Not true, you can change your policy at any time and the current company must refund you a prorated amount.
My insurance is escrowed. I can not change it right? Not true, you can change at any time and you are NOT required to escrow your insurance. When I changed my personal policy the mortgage company recalculated the escrow amount and refunded the difference.
The process of changing and notifying everyone is a pain right? Nope we will handle that for you. We will notify your current policy and the mortgage company of the change and provide them the needed paperwork.
We are very happy to be able to provide this new service at a cost-savings to our clients and hope that you will give it a chance. Our goal is to save you money and make it easier on you to manage your investment property.
Please send your declaration page(s) (the paperwork you receive at renewal) to clients@sloaneteamrealty.com to see if this works for you!