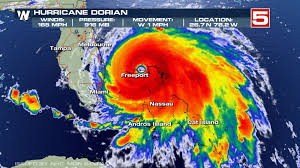 South Carolina has declared a state of emergency ahead of hurricane Dorian. While we still don't know exactly where the storm will go, we wanted to discuss some things that you should do to prepare for the storm and its potential aftermath. Sloane Realty will provide updates via email as well as on our Facebook page (https://www.facebook.com/search/top/?q=sloane%20realty) and other social media sites as the storm causes us to change our normal system of operations. The office will be closed this week in accordance with the mandatory evacuation. Because Dorian is going to hit when rent is due, we will be waiving late fees for all rent paid by the 9th, at which time the storm should have passed. The fees will be assessed by the accounting system on the 6th, but we will manually waive them for all September rents paid by the close of business on September 9th.
The following are some tips and recommendations regarding hurricane season:
The owner of the property has NO insurance to cover your personal items (including items in the refrigerator).
If you do leave, you should unplug small appliances and electronics so that if the power goes out, the items will not be damaged when it comes back on. You will need to leave the refrigerator plugged in, unless you remove all of the items that will spoil without electricity. If you know the location of the breaker that controls the stove and hot water heater, it would be good to turn those breakers off.
We would like to know your plan. Please email tenants@sloaneteamrealty.com or call 843-795-4461 and let us know if you are leaving. If we do get a hit, we will be checking on the rentals as soon as possible. After the storm, we will send out an electronic survey. Please respond to the survey at your earliest convenience; it will help us quickly gather information and dispatch vendors, call insurance companies and update property owners, as needed. If you do not have access to email or the internet, you can also call 843-795-4461 and leave word about your rental. If there is damage, please leave a message explaining the extent of the damage. We will receive the message, but may not have the manpower to return your call as quickly as we would like. We ask for your patience and understanding.
Do not wait until the last minute. Make preparations now, and then stay off the road as the storm gets closer. South Carolina Emergency Management Division (scemd.org), has an excellent 14 page guide with information as to the evacuation routes for your area, phone numbers for emergencies and what you need to prepare and/or purchase if you are staying in the area. The Georgia Emergency Management Agency also publishes a hurricane guide, which can be found here: Georgia Hurricane Guide.
Please be ready to prevent further damage to your property and possessions if there is structure damage causing water or wind to get inside. It is the owner's responsibility to fix the structure, but you do have a responsibility to prevent continuing damage. If damage occurs during the storm, we will address it as soon as it is safe to do so. We will not be dispatching any work orders during the storm, and if the roads are impassable, it may take longer than any of us would like to be able to get vendors to your property.
During a big storm, tree damage and debris in the yard is likely. The owner is responsible for large debris but you, as the tenant, are responsible for limbs and other debris in the yard. If grounds maintenance is provided as part of your lease terms, or association management, the owners will have their service providers remove the debris, but this may take some time.
Our office will open as soon as possible after a storm. Email will remain the best means of communication. Please let us know if you need any assistance. We have included some links to great resources below.
For Charleston:
The Charleston County Emergency Management Department developed and maintains an Emergency Operations Plan and Re-Entry Plan for the entire County. Please visit their website at www.charlestoncounty.org/departments/emergency-management for more information and links to these documents.
For Savannah:
The Georgia Emergency Management Agency has an extensive hurricane plan. It can be found at http://www.gema.ga.gov/Plan%20Library/Hurricane%20Plan%20(2013).pdf .
In case of an event, here are some important numbers or websites you need to know.
If our area is severely impacted by a hurricane, we will send out a follow-up survey to help us ensure that you are safe and that the property has not sustained any damage. We ask that you be on the lookout for the survey, and let us know as quickly as possible about any damage to your home. Stay safe!
photo courtesy of weathernationtv.com